Description
SMSL SA-36A Plus digital power amplifier for passive speakers. It makes a great addition to any desk setup. It uses the well-regarded TPA3118 amplifier IC and supports wireless playback from Bluetooth-enabled devices¡ªlike your computer, tablet, and mobile phone¡ªwith a transmission distance of more than 10 meters. 

Using the inputs on the front panel, you can also play music from your microSD card, USB drive, and other storage devices. When you use these three (U disk / TF card / Bluetooth) input, you can also set the EQ (flat, rock, pop, classical, jazz)

Input jacks
Bluetooth input: you can connect the phone or computer Bluetooth, with an external antenna, the barrier-free transmission distance of up to 10 meters or more;
USB input: you can connect the computer to use the USB, do not need to drive, this time the amplifier is equivalent to an external sound card, the computer sound option which will be set to the default device amplifier, and then play music (such as Microsoft WIN7 / WIN8 / WIN10 system).
U disk input: This is the use of USB interface, connected to the U disk, power amplifier decoding U disk inside the MP3 / WAV music format, support to 64G capacity;
TF card input: insert the TF card, TF card decoding inside the MP3 / WAV music format, support to 32G capacity;
AUX input: 3.5mm stereo audio input, as long as the analog output can be connected to use, such as mobile phone /computer headphone port output. 

Specifications:
Output power(4ohm): 30W *2
Amplifier IC: TPA3118
Input: BT/USB Audio/U-Disk/TF card/3.5mm
Output: banana jack
Bluetooth: Compatible with 3.0/4.0/4.1
Power consumption: 22W
Standby power: 0.5W
Power supply: 24V
Machine size:120*92*40mm /4.8*3.5*16"
Net weight: approx. 322g.
Gross weight: 748g

Contents list:
1*36A Plus AMPLIFIER
1*24V power adapter
1*Antenna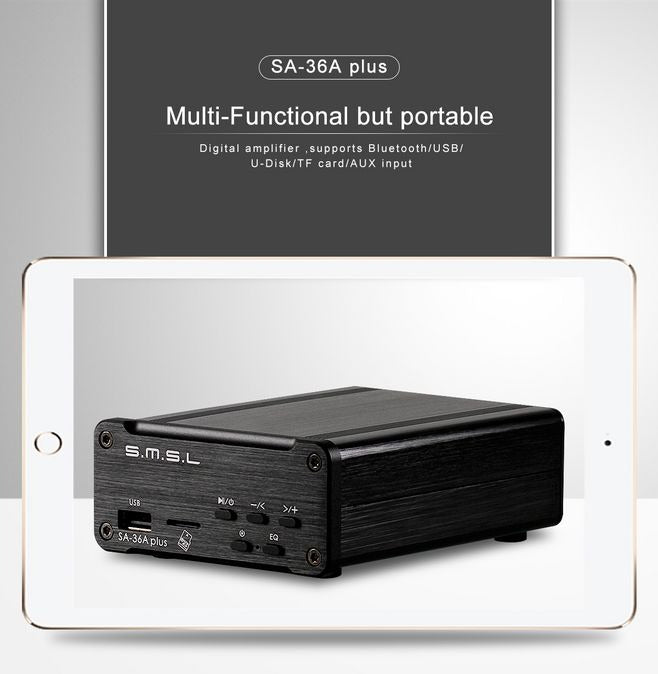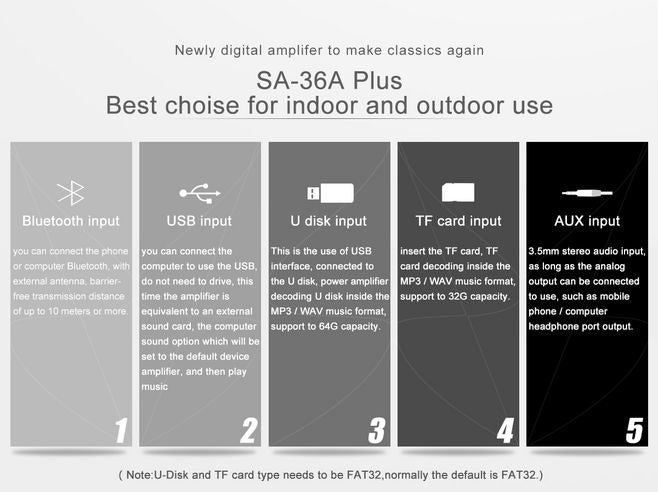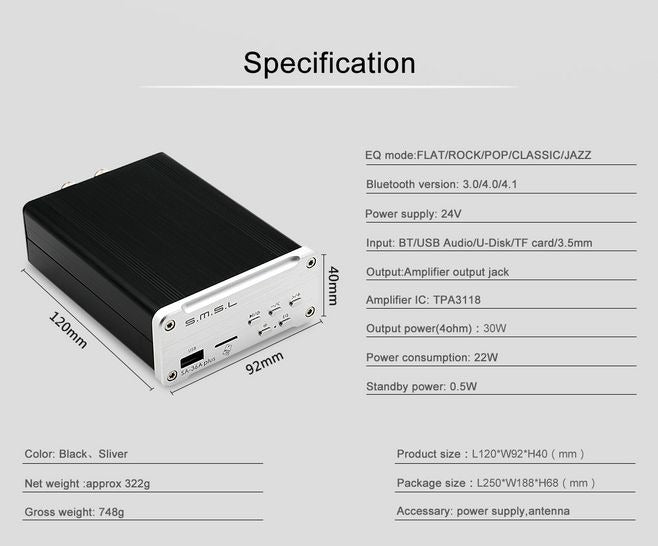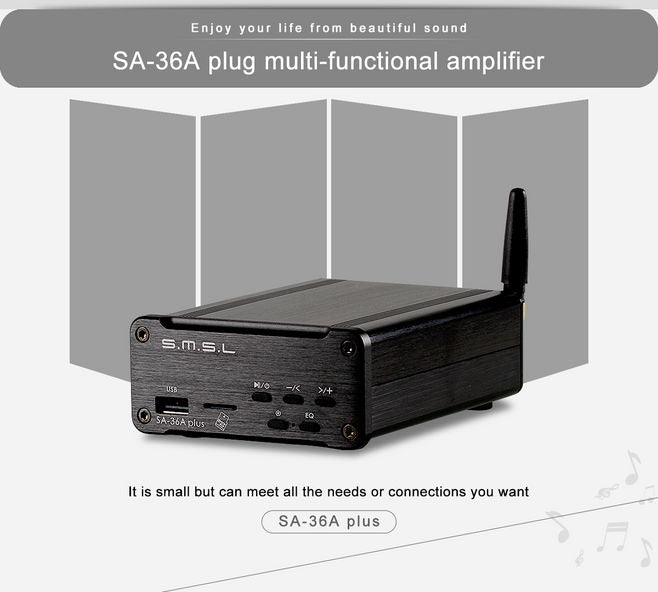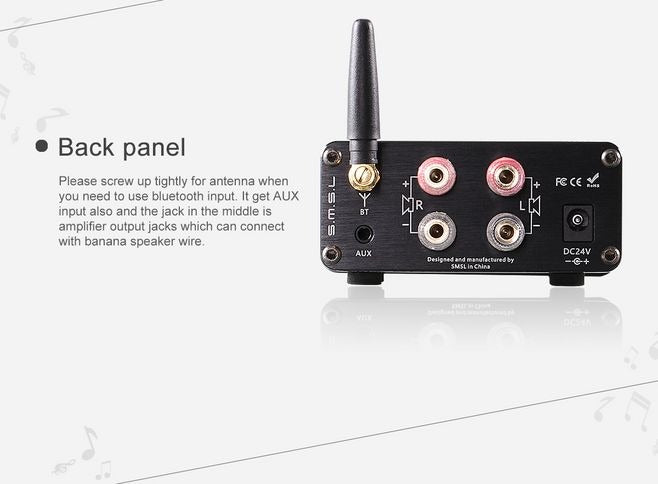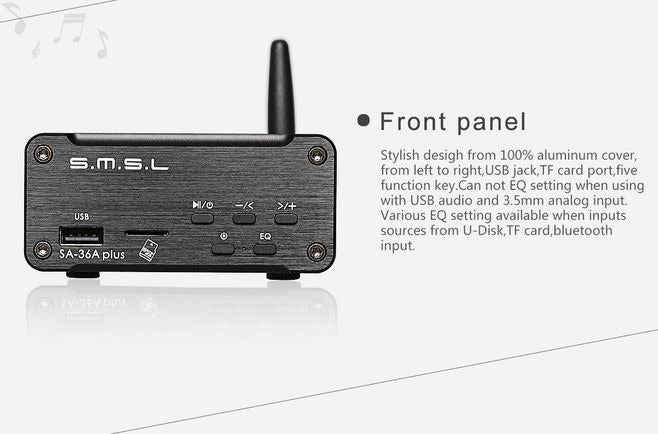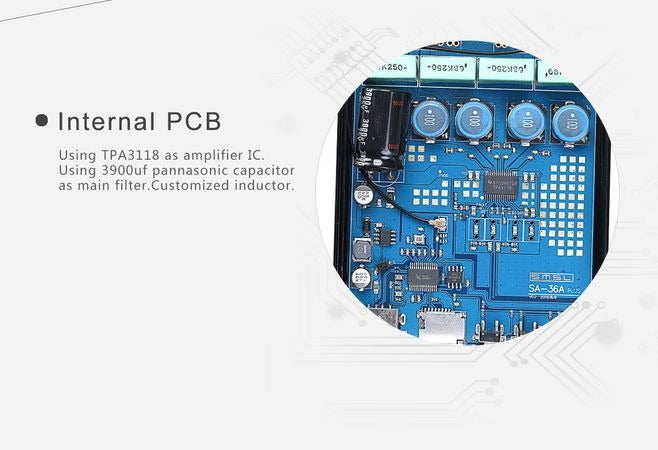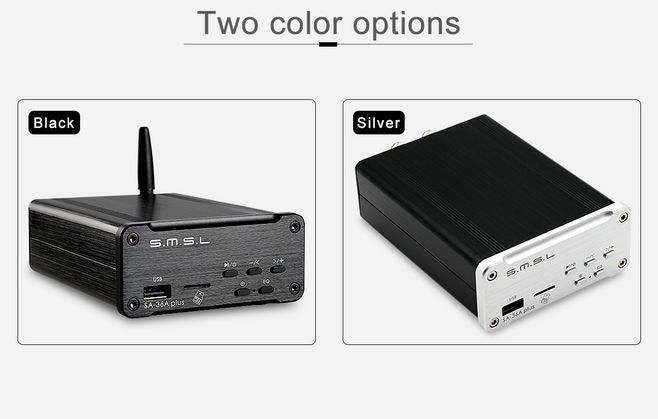 Secure Checkout
Your payment information is processed securely. We do not store credit card details nor have access to your credit card information.